The Pirate Dance has been a popular event over the years in Original Carrollwood dating back to 1963. Decked out in costumes, neighbors gathered to enjoy the festivities, and a Duke and a Duchess were named. Read more about the neighborhood fun below.
1963 … The first dance was held on Saturday night, Feb. 16th, 1963 at the Florida Confederate Hall on Waters Avenue (now gone). Invitations urged "pirate costume for the adventuresome" and "informal for sissies"! Tickets were sold for $1.50 each, with live music by Tommy Ferraro Band and complimentary beer. Table snacks and set-ups were BYOB. In March, The Caroler reported that "the place was decorated to its swashbuckling hilt with colored flags, a pink and gold pirate chest spilling out with historical loot and candles burning in old wine bottles. A colorful gangplank was the entrance route. Costumes and makeup were enough to scare the livin' daylights out of you!" An enormous and enthusiastic social committee included the following: Dotty & Dick Block, Abe & Anetta Rigau, Goeroge & Charmaine Kerr, Hector & Irma Carravacci, Jim & Burchard, Al & Lorraine Conolly, John & Jane Richmond, Lee & Meg Belanger, Bob & Dot Banker, and Bud & Norma Felsenthal.
1964-1978… each year the dance continued to grow. Costumes became more "horrendous or dramatic or dear-darling." Refreshments were described as tempting and satisfying. Glamorous prizes were given for the best costumes. Later, the event was called the Gasparilla Dance and up to two hundred resident guests "merrily costumed swingingly enjoyed the festivities." Eventually Dukes and Duchesses were elected to reign for the year, and they were bethroned and becrowned in satin and ermine robes and crowned with jewels. The Caroler described the exciting festivities as "high-jinx"!
1995-1999… after nearly a twenty-year hiatus, the Pirate Dance resumed without missing a beat. Residents continued to crowd the party, unabashedly dressed in their finest pirate attire complete with make-up. The Duke & Duchess of Original Carrollwood crowned in 1999 were Bob & Katina Johnston.
2008… After a nine-year hiatus, the anticipated return of the Pirates Dance was filled with as much excitement as a band of buccaneers discovering a long lost treasure. Close to 200 Original Carrollwood residents donned their pirate attire and proceeded to transform the Rec Center into a swashbuckling extravaganza! Pirate flags, tikki torches, various parrot displays, treasure chests, and even a boat were a part of the elaborate decorations provided by Cindy Hanchett of Funmakers, Inc. The tables were thoughtfully designed with candle centerpieces draped with a myriad of colorful beads provided by OC resident Jennifer Gregory. Dinner, provided by Sam DiFranco of Mama Leona's, was a feast fit for a king, let alone a bunch of pirates. Carribbean pork, black beans and rice, a hearty pirates stew, and a beautiful fruit display with a chocolate fondue pot and pound cake was enjoyed by everyone. After dinner, it was time for the main event. The crowning of the new duke and duchess of Original Carrollwood. To begin, the reigning Duke and Duchess, Bob and Katina Johnson, made their final procession and proceeded to crown this year's winners, Duke Mark Snellgrove and Duchess Nancy Otten. Duke Mark and Duchess Nancy kneeled before the crowd and pledged their devotion to the residents of Original Carrollwood by reciting an elaborate set of vows and drinking from a chalice filled with water from Lake Carroll. Afterwards, they were formally recognized by the crowd and joined by the 2008 court. First runners up were Rich Larcomb and Jeannine Parrish, and the 2nd runners up were Jamie Sheer and Becky Hanley. Duke Mark's first official act was presenting our county commissioner Ken Hagan with a commemorative clock in appreciation of his support of Original Carrollwood. The feast and festivities quickly turned into a non-stop party as the FunkMonster Band (www.funkmonsterband.com) started the night with a phenomenal Tina Turner show. Once Tina departed, the band played dance music that got everybody out onto the floor moving to the beat.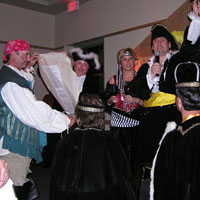 2009… Attended by about 200 people, the evening's pirate theme was executed perfectly by Chairwoman Tracy Pimpo and her devoted Krewe: Jennifer and Jim Gregory, Dru Albano, Jim and Barbara Blanco, Cathy Bryner, Frank Perrelli, Janice Coulton, Mark Killen, and Hannah Forman. The seven-piece FunkMonster Band returned to the Recreation Center, bringing back their Tina Turner show along with Elvis! The 2009 Duke and Duchess votes were counted, and the winners were announced: Duke Mickey Jaap and Duchess Tracy Pimpo; runners-up were Rich Larcomb and Kelly Snellgrove. Winners of the costume contest were as follows: Master of Ceremonies Jim Blanco, "Jack Sparrow" Glen Peterson, "Sir Tacky" Seth Forman, "Piratess Madam" Jorey Ehrlich, and "Slyboots" Claire Hancock.
2011… Led by their fearless leader Dru Albano, the Pirates Dance Krewe organized yet another pirate paaaaaarrrrty at the Rec Center. Dru's Krewe included the following: Barb and Jim Blanco, Jennifer and Jim Gregory, Glen and Cathy Gullo, Frank Perella, and Barbara Koehler. Keeping order and preventing a mutiny among 200 unruly pirates, the Master of Ceremonies was Town Crier Glenn Gallo. DJ Bob Moore kept the music going and the dance floor hot. Original Carrollwood's new royalty was announced: Duke Andy Fonda and Duchess Penny Gallagly. Sir Tacky Mickey Jaap and The Wench Sharon Benson were declared winners of the costume contest.
Complete List of Dukes and Duchesses
1965, Dick and Dottie Bloch
1966, Ernie and Pat Sigrist
1967, Jack and Myrt Elliott
1968, Gail and Dee Penny
1969, Scotty and Dorothy Cooper
1970, Tom and Ruth Potterfield
1971, Bill and Maude-Ashley Bremer
1972, Jim and Ocia Felder
1973, Bill and Kathy Eisele
1974, Ted and Lois Koch
1975, Doug and Dean Duperrault
1976, Jan and Wayne Wilson
1977, Bob Kerns and Delores Manker
1978, Joe and Celeste Santoiana
1995, Andy and Vivian Pandolfo
1996, Bob and Dot Seitz
1997, Randy and Danielle Middlebrooks
1998, Allan and Bobbi Taman
1999, Bob and Katina Johnston
2008, Mark Snellgrove and Nancy Otten
2009,  Mickey Jaap and Tracy Pimpo
2011, Andy Fonda and Penny Gallagly