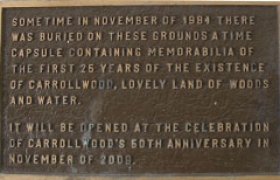 In November 1984 the community gathered to reminisce about the first twenty-five years of living the good life in Carrollwood. Raising children, building houses, surviving a tornado and proudly contributing to making northwest Hillsborough what it is today were just some of the conversations shared.
Volunteers included Jim Weiss, Ed Cohen, Tony Zaitz, Karlene Rowe, Mary McCall, Jean Johnson, Dot Seitz, Philip Ciaravella, Jim LuAllen, Chuck McManus, Nilla Leto, Katy Schmidt, Lula Dovi, Randy & Danielle Middlebrooks, Pat Szasz and chairperson Carol Salmon.
By then, all 900 plus homes had been built and the community was complete, but the surrounding area was still developing. North Dale Mabry Highway remained a two-lane road until the late 1980s and major shopping ended at the Bearss Avenue/ North Dale Mabry intersection.
Event organizers thought to assemble items for a time capsule, which was buried near the Rec Center and was reopened in 2009 at the 50th anniversary of Original Carrollwood. For many years, a plaque donated by Mrs. Nilla Leto commemorating the project was mounted at the Rec Center.